I am actually ridiculously excited to start posting my favourite things on Fridays. I was going to make this a Thursday theme post, but I figured, hey, why not save the best for last. I am really digging the nautical theme right now. It's turning into an obsession. One that I am keeping in check by only looking at super cute things online for fear of going broke.
I love love love sailor suits. I don't know what it is about them, but I really want one. I'm thinking of investing in a sailor style dress instead because I k now I'll get more wear out of it. Something like the third one above. My favourite is the center though! The whole clothing line at Atomic Rocket is pretty fantastic actually. Especially the corsets.
How cute is this octopus switch plate? I'd like one for every switch in the house please.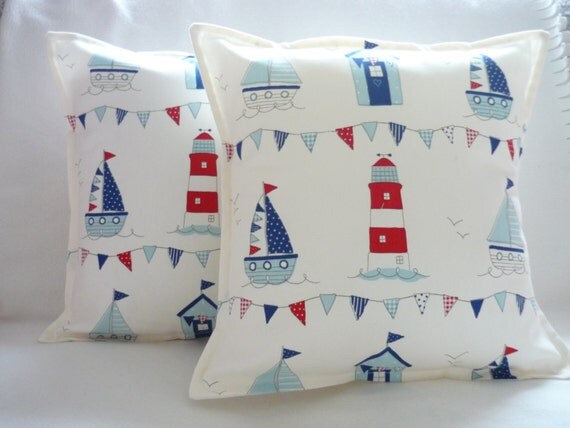 Nautical cushion cover by MyCuppaT on Etsy
Okay it's between the octopus and these for sure.
And of course Modcloth never fails me!
I've got my first treasury list up
on Etsy
finally, also nautical themed. I think this is one trend I won't ever grow out of. I've been in love with the nautical theme since I had my first sailor suit (that I remember anyway) when I was four, haha!
Feel free to link me your favorite nautical themed items. Happy Friday!
Stay Scary,
Berlyn